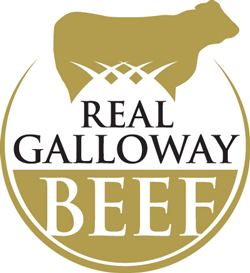 Beef from Galloway breed cattle has distinct properties that many customers, chefs and manufacturers seek out. Our new quality assurance scheme is designed to help you identify and select beef from registered Galloway cattle that will deliver the exceptional eating experience you expect from Galloway Beef.
Our quality standards have been developed in partnership with our members and the wider industry. They are designed to help safeguard and grow the breed, to encourage sound animal husbandry and support sustainable red meat production based on natural grazing systems.
Look out for the Real Galloway Beef logo for meat from cattle that meet the following quality standards.
Real Galloway Beef Quality Assurance Standards
Cattle sold under the 'Real Galloway Beef' brand must have at least one parent registered.
Galloway cattle are noted for their hardiness and are primarily a grass fed animal. Restriction of outdoor access or movement should only be under exceptional circumstances.
The environment in which Galloway Cattle are kept should allow keepers to demonstrate the high health status of their stock.
To help demonstrate sustainability, support the concept of local produce and help reduce the Real Galloway Beef carbon footprint journeys should be kept to a minimum.
While grazing is to be encouraged for as much of the year as possible every care must be taken to minimise risk to environmental damage.
Farm Appearance is something by which the industry is regularly judged. Real Galloway Beef farms should be the 'showroom' for the brand.

To find out more about the Real Galloway Beef quality assurance scheme or to express an interest in registering as an accredited supply chain partner, please contact liz@gallowaybeef.co.uk 
"As well as being one of our oldest native breeds, Galloway Beef is a Prime beef product in the industry, and its provenance is of great importance to Scotland. So it's very encouraging to see the Galloway Cattle Society taking positive steps to creating a sustainable future for the product by creating a quality assurance scheme, setting out specific standards to be followed when rearing cattle, and investing in young people to take the sector forward in the years to come."
Fergus Ewing, Cabinet Secretary for the Rural Economy, Scottish Government